Furnishing offices, workplaces and homes.
Office furniture to inspire, organize and grow with. Meet your workplace, office, business, school, or home office needs. From chairs to casegoods and everything in between to furnish large or small Blackburn can help.
Professional & Experienced Installation
Available on ANY sized job. Small and large project alike we're able to deliver and set-up your office furnishings at no additional cost.
Desk Chair 100% Comfort Guarantee
We want to you feel confident purchasing a chair with the knowledge that we'll replace it at no-cost if it's uncomfortable.
---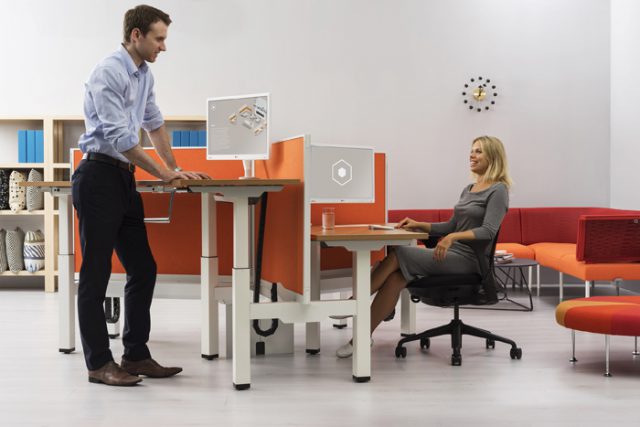 Sit-Stand Desks & Ergonomics
Standing and adjustable-height desks are great alternatives to sitting all day and help encourage more movement than simply being seated at your desks all day. We stock two and three leg sit-stand desks along with an assortment of articulating keyboard trays and adjustable monitor arms. Our experienced sales staff can recommend the right ergonomic equipment to help you become more productive and work healthier.
---
Furniture We Provide:
We can help you create a space that improves communication and encourages innovation.
Quality Brands
We've provided excellent quality brands like Office Master, Coriander, and Herman Miller to Bellingham businesses since the 1980's.
AIS

Blackburn has sold and installed AIS office cubicles in numerous companies in northwest Washington. We can help you think through the design of your office space and provide free CAD drawings to layout your cubicles and other work areas. AIS is powered by the smart people you see here—professionals who are committed to helping our clients succeed. As a fun-loving, hard-working group, we're after the same goals: award-winning products and manufacturing, marketing ingenuity, and, most of all, your personal business success. Not pictured: More than 800 team members standing by, making it all happen.

Furnishing Types

Office Cubicles
Desking
Storage
Seating
Tables
Office Furniture

Industries

Professional Office
Goverment
Education

Berco

Since 1969, Berco has been designing and building tables to the high quality standards of its founder, Melvin Berkowitz. Mel believed that listening to his customers, taking care of his employees, and manufacturing here in the US were the keys to building tables, and a business, that would stand the test of time. Over 40 years later, Berco Furniture Solutions continues to take pride in these time-tested values. Owner Mike Hojnacki is committed to US manufacturing and values the company's team of talented and dedicated workers just as his predecessors did. Berco has long stood for simple, clean design, quality construction, and incomparable customer service. The 2013 ownership transition brings welcome investments in all of these areas, as well as a renewed commitment to improving the customer experience by making it easier to find and order the perfect table for any space.

Furnishing Types

Tables
Booths
Seating
Collaborative Seating
Custom Furniture

Industries

Offices
Retail
Restaurant / Cafe
Education
Libraries

Coriander Designs

Blackburn Office Equipment works with Coriander as their manufacturer of choice for high quality desks, conference tables, lounge seating, and custom design work. Coriander Designs, headquartered in Woodinville, Washington, designs and manufactures furnishings for the healthcare, education, and corporate industries. Founded in 1979 by Ken Boudreau, the company uses state of the art machinery in their family managed and owned factory to produce a wide variety of commercially built and finished furnishings. Coriander Designs is committed to incorporating sustainable materials and environmentally sound manufacturing practices, so that their family owned business can pass on the tradition to future generations.

Furnishing Types

Seating
Desk Systems
Tables

Industries

Professional Offices
Conference / Executive

Desk Makers

Since their start in 1964— when they were manufacturing in a small East Los Angeles factory— they've become one of the leading manufacturers of modern, customizable, and affordable laminate casegoods, tables, and desking. Back then, they offered desks in only two laminate finishes (oak and walnut), and one pedestal style (box file) with only one variety of drawer pull. Today, they are based in a modern 75,000 square foot facility in Commerce, CA, where we work every day to enable their customers to achieve their design vision through our customizable, flexible and affordable products.

Furnishing Types

Sit-Stand Desks
Casegoods
Tables
Desks
Conference Tables
Reception
Custom Furniture

Industries

Professional
Conference / Executive

Faustino's Office Furniture

With over 100 years of combined management experience, Faustino's knows what it takes to provides office seating and case goods for every application, be it traditional or contemporary. In offering a wide range of fabrics, leathers, vinyls, veneers, and laminates that suit virtually any workplace environment, Faustino's can assist in creating inviting workspaces that convey comfort and professionalism. Affordable quality, made in the USA, with a large client base of satisfied customers from private sector to public, why not see what Faustino's can do to address your current and future office needs.

Furnishing Types

Seating
Modular Lounge
Tables
Case Good
Reception
Custom Works

Industries

Professional Office
Conference / Executive

FireKing

FireKing offers best-in-class security products for asset protection in retail, commercial, and home office environments. Their breadth of products include fireproof files and storage cabinets, safes and cash management systems, and digital video security systems.

Groupe Lacasse

Groupe Lacasse, based in St. Pie, Quebec, Canada, is a North American leader in the design, manufacture and service of a broad range of high-quality office furniture products under the Lacasse®, United Chair®, and Nvision® brands. Founded in 1956, Groupe Lacasse offers advanced design and value products in laminate office furniture, steel storage and filing, workplace systems and seating. The company has manufacturing facilities throughout North America. Groupe Lacasse is well known as the industry leader in thermofused laminate office furniture. We have achieved this status through constant innovation and design - core values of our company. The result is fresh and inventive styling, new material choices, advanced features and leading-edge engineering. Groupe Lacasse now encompasses a full-service program of office furniture, systems, seating, and steel filing and storage. We work hard to instill our core values and pioneering spirit in all of our divisions and product lines.

Furnishing Types

Seating
Office Chairs
Desk Systems
Storage

Industries

Professional Offices
Healthcare / Labs
Conference / Executive
Educational

Ideon

IDEON delivers high-quality, stylish lounge seating + tables, quickly and consistently with a 10-day standard lead time. Its design platform, combined with flexibility, technology and speed revitalizes the way the industry specifies furniture. Whether you need a more upscale clean sophisticated look or a more casual, warm, familiar feel IDEON will allow you to design that perfect fit for your needs – on budget without sacrificing aesthetics.

Industries

Healthcare
Office
Educational
Government

Office Master

OM is a company that prides itself on producing thoughtful, well-designed seating.

Furnishing Types

Chairs
Desks
Ergonomic Accessories

Industries

Office
Education
Conference / Executive
Heavy-Duty
Healthcare / Lab

Offices To Go

Blackburn Office Equipment has recently brought in a new manufacturer of case goods furniture. Offices To Go offers a selection of laminate options on a number of different desk configurations. Offices to Go desking and tables combine form with function to support a wide range of workplace applications. From private offices to collaborative spaces, boardrooms or reception areas, Offices to Go offers solutions that will exceed your expectations and keep you on budget. With a remarkable quick ship program and good prices Offices to Go is an excellent choice for rejuvenating your office on a budget.

Furnishing Types

Casegoods
Reception
Executive Office
Conference

Industries

Professional Office
Conference / Executive

SitOnIt Seating

SitOnIt Seating, founded in January 1996, is a mid-market manufacturer of ergonomic task, conference, executive and side seating. The company combines world-class design with a reputation for speed-to-market.

Furnishing Types

Ergonomic Task Seating
Executive Seating
Side Seating

Furnishing Types

Benching
Tables
Sit / Stand Desks
Dividers / Whiteboards
Monitor Arms
Keyboard Trays

Industries

Professional Offices
Home Offices

Systems In Stock

Systems In Stock - Recovered cubicles at an exceptional value. Manufactures high quality, environmentally friendly commercial office furniture.

Furnishing Types

Workstations
Desks
Filing & Storage
---